Handling The Burden of CIQ & Visa Process
Convenient and reliable CIQ & Visa support at affordable prices. Never waste a second frustrated about monotonous matters, papers, and documents.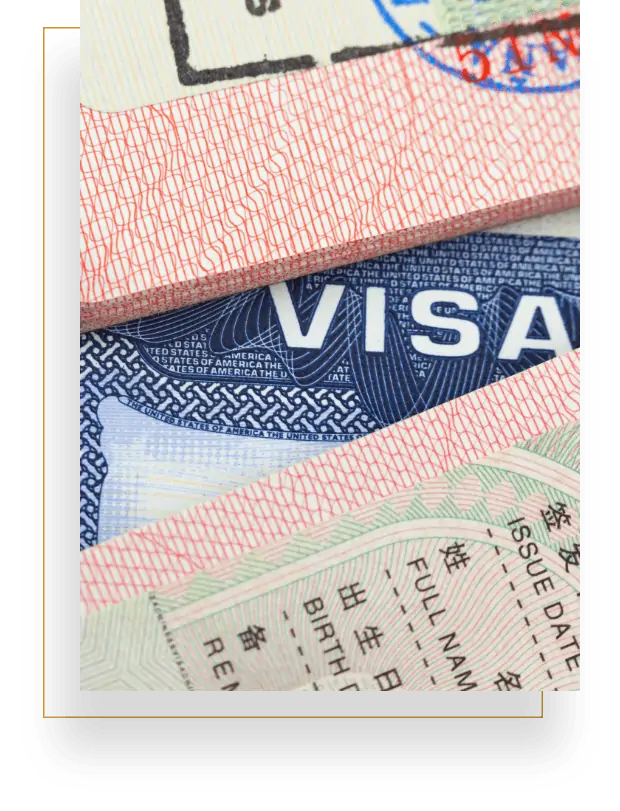 Finalize All Your
Procedures Professionally
Procedures and requirements for visa handling services, clearing customs, immigration, and quarantine (CIQ) vary across the world. Lack of knowledge and preparation can put the mission in jeopardy and cause severe consequences for the crew members, including immediate deportation.
With Jet Business Solutions, you will get through the entire process of visa & CIQ arrangements seamlessly at your fingertips.
Thanks to our many years of experience in this field, we strive to optimize the process of obtaining a visa and handling CIQ while minimizing the whole cost.
Our experts work with local authorities to provide you with guidance regarding lead time and overtime availability for CIQ arrangements for your destination and tech stop locations.
We offer a full range of personalized travel arrangements services, that are catered to your needs, to simplify and speed up the process of applying for CIQ & visa handling services.
To ensure a comfortable experience for your crew and passengers, we will help you with the needed clearance and CIQ documentation, while making sure whether you can have it on arrival or needs to be arranged before the flight.
JBS also provides advice on all issues related, receives and processes the package of documents, and delivers them to be considered.
Be certain that the privacy and confidentiality of your personal information are at the center of our attention.
We will support you and ensure that the process of applying for a CIQ & Visa goes smoothly and easily.
Why choose JBS to be my reliable partner in visa handling services, clearing customs, immigration, and quarantine?
Personalized service:
You will receive detailed guidance notes on the required CIQ & Visa documents, as well as, you will be advised on additional documents to submit (depending on your nationality, family, etc).
Safe storage:
We respect your privacy and make sure there is no unauthorized access to your data. 
All your valuable documents including passports are treated with utmost care following a strict standard of your information security.
Stress-free:
We are a longstanding company that has DECADES OF EXPERIENCE regarding CIQ & Visa support with a well-informed, and competent team.
Convenient & secure:
Save the hassle of arranging CIQ & Visa, your valuable time, and your money. We can arrange convenient delivery and collection, no need for you to take a day off work. 
Reliable:
We check your forms and application packs to make sure they are all completed as per the needed requirements.
Are there any issues that may impact my flight schedule?
Some airports of entry have 24/7 customs, immigration, and quarantine availability, while others have specific CIQ operating hours or maybe only upon request.
There are also airports with simplified procedures where CIQ clearance forms may be submitted in advance to expedite the clearance process on arrival.
How are customs rules and regulations handled?
Customs rules and regulations vary from country to country, which can be challenging. Customs handling of import and export shipments is part of our top priority services and your shipment will be in safe hands with us whether it is refrigerated products, live animals, merchandise of large industrial size, or anything else.
We have the experience, knowledge, and in-house competencies to ensure a correct customs handling process that saves money and prevents delays in the release process.
How do you take care of the local legislation, conditions, and rules?
The customs area is constantly evolving, and we value training and continuous education tremendously.
We offer guidance and assistance through dedicated customs specialists.
Our customs specialists work with customs, ensuring that the best service is provided to our customers in our offices around the world.
Rest assured that our local customs experts are aware of all local legislation, conditions, and rules.
This is one of the reasons why we hire professionals, they do not accept mistakes and solve customs challenges for our clients.
What if my question isn't answered here?
If you have further questions, or can't find the answer to yours here, please feel free to contact us at:
Operations team (24/7)
Email: ops@jbs.aero
Tel.: +971 4 3379191 Ext. 103
Mob: +971527778622
Email: marketing@jbs.aero
Tel.: +971 6 7486866 Ext. 110
Mob: +971521364676