Obtain Any Flight Permits Fast and Easy
We take care of the challenging requirements of overflight and landing permits for airlines and flight operators. Leave the hassle of getting permits to us! We will handle all kinds of flight permits for any type of aircraft.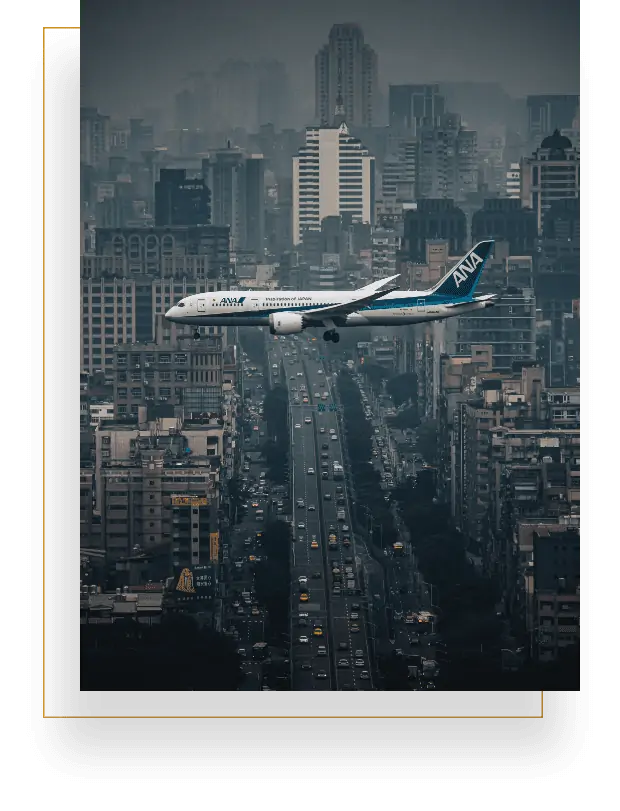 A Vast Knowledge of Recent Regulations &
Requirements of Aviation Authorities
We guarantee to obtain all flight permits even on short notice, whether it is an overflight permit, a landing permit, a diplomatic flight permit, or a special flight permit anywhere worldwide.
We ensure that all of your flights are on time by employing a 24/7 experienced team to handle all procedures and documents in partnership with Civil Aviation Authority CAA at your destination.
Countries are changing their policies from one day to another. But we will always ensure that we obtain all required permits, approvals, and licenses. Besides, keeping our clients informed regarding any changes or new requirements regarding aviation travel.
Our experts in the flight support domain, has a vast knowledge of recent regulations and requirements of aviation authorities globally. That allows us to provide expert advice on any issue of obtaining the needed paperwork to ensure that your aircraft meets the necessary standards to fly legally in any airspace.
We provide you with the support you need for all your operations in any country.
Prior Permission Requests PPR

Special Flight Permit

Ferry Permit

Overflight Permit

Landing Permit

Diplomatic Permit

Traffic Rights and Foreign Air Operator Certificates

Short-Notice Permits 24/7

Slots
At Jet Business Solutions we understand the complexities of obtaining all of the above, and we aim to take care of all your needs. Our experts will help you avoid potential pitfalls and issues for a successful safe flight each time. Whether it is short notice or an emergency landing permit, you can rely on us.
A flight permit is mandatory for any domestic or international flight. The permit's cost depends on several factors, including the type of aircraft used, the length of the flight, your destination, and when you want to take off.
Because there is usually a fee involved, each country has its procedures for the issue of flying permits. The Route Navigation Facility Charges, or RNFC, are generally payable for overflights, as well as landing and parking fees if the aircraft makes a stop. The process for obtaining these licenses differs from country to country.
Airlines need to balance safety against efficiency in their flight planning.  Their decision to approve or deny a landing slot will depend on weather conditions, the expected congestion at the destination airport, and the air traffic status.
What documents do I need to apply for a flight permit?
We ask aircraft operators for an air operator certificate AOC, insurance certificate, certificate of registration, insurance certificate, noise certificate, and a certificate of airworthiness.
When do I need a Special Flight Permit?
You need to apply for a special flight permit form when the aircraft can conduct a safe flight but still doesn't meet applicable airworthiness requirements. Generally, that is when you:
Fly to an airport for aircraft maintenance and inspection.

Fly with extra maximum takeoff weight (MTOW).

Deliver a recently bought aircraft to its owners before obtaining the required documentation.

Production flight tests.

Evacuate an aircraft from dangerous areas.

Customer demonstration flights.
How to calculate overflight fees?
You can find all you need about Charges for Airports and Air Navigation Services in The International Civil Aviation Organization's (ICAO) Policies. Some countries take into account the aircraft's weight and distance, like Canada. Some countries impose a flat fee simply for flying over their land or taking an "en-route like the US. While in China there is an overflight permit plus the air navigation fee calculated by distance.
What challenges may face airlines when applying for flight permits?
Sometimes you need a landing slot approval before obtaining your landing permits.
Short notice applications are not an option in other countries like India. Although, you can resolve that with the help of a professional flight support company.
Lead times for obtaining permits can take a long time, and even worse if the CAA at your destination is off on weekends.
How can JBS help me with flight permits?
Our experienced team can help you obtain short-notice flight permissions. In addition, our flight planning service assists you in selecting the optimum route for your travel to keep your overflight expenses to a minimum.