Count on Us for a High-Quality Aviation Handling Service
The world of aviation handling is constantly evolving, and so are we, to meet your needs by offering innovative solutions and optimal services.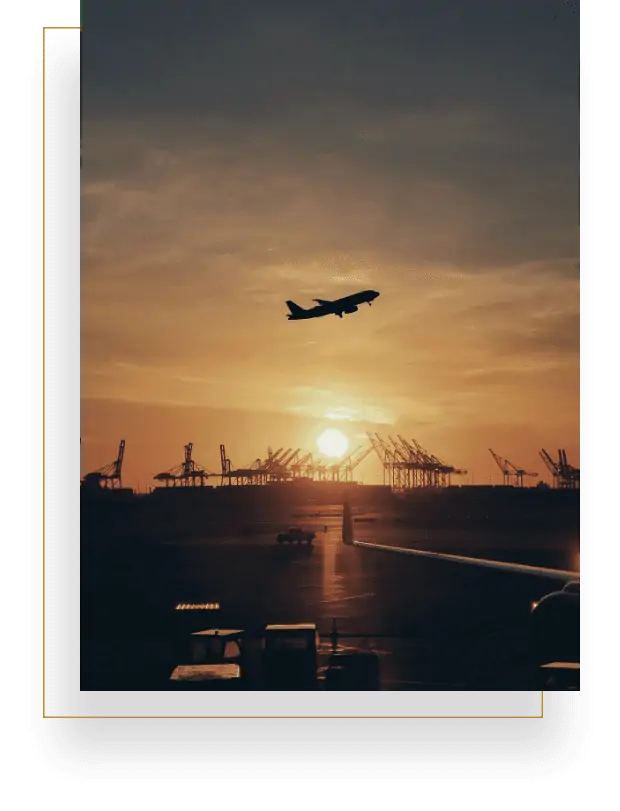 Your Privileged Partner for
Aviation Handling
Airports are the hubs where millions of passengers travel every day. They also play a vital role in the economy and national security. The aviation industry has grown tremendously, and airports are becoming major economic drivers.
Aviation Handling Agents (AHAs) are professionals who handle aircraft operations at airports. These include loading and unloading planes, refueling them, cleaning the plane, and providing catering services.
We assist you in the key factors and the small details for smooth flight and airport operations.
Aircraft Management Services are all the related activities to running an airline from planning to operation. This includes flight planning, execution, supervision, and controlling all aspects of scheduling, technical support, crew scheduling, staffing, passenger services, inflight crew meals, cargo handling, ground side facilities, and more. 
 Jet Business Solutions employees are determined to delivering superior customer satisfaction through our unwavering commitment to quality care and safety.
Aircraft management companies perform a wide range of duties related to ground handling services and beyond such as ramp handling, traffic operations, cleaning, repairing, inspecting, washing, and fueling aircraft.
Prepare and install flight plan information for each flight required by the  Federal Aviation Administration (FAA).

Load passengers and cargo onto and off planes.

Repair and insure aircraft. Remove and replace windshield glass.

Make sure the correct weight and balance are maintained and report any discrepancies.

Perform routine maintenance and minor adjustments to airplanes.

Serve food and beverages aboard the aircraft.

Respond to emergencies.
Airlines are many and different. We understand the needs of each and serve per the aircraft type. You can rely on us when you need to handle air ambulances, military aircraft, cargo handling services, passenger handling, and private helicopters.
We focus on providing outstanding services to aviation clients. In addition to serving commercial airlines. We also offer highly specialized services such as corporate charter, cargo handling, and medical evacuation. Our experienced staff always delivers superior results.
When you partner with JBS, you benefit from our expertise, experience, and resources. We have access to high-caliber specialists trained to deliver exceptional customer service and value.
Experience Counts
For decades, JBS has provided its clients with reliable, cost-effective, and efficient services. We strive to exceed expectations by maintaining consistency and quality. Your long-term relationship with us will be safe and secure.
We have earned a solid reputation in the industry by consistently meeting schedules, performing inspections, and being responsive to your concerns. We go beyond what other agents do when it comes to aviation handling.
At JBS, we pride ourselves on working hard and taking extraordinary measures to guarantee that everything goes according to schedule and meets or even beats performance goals.
It takes years of experience, dedication, innovation, and professionalism to build up a business like ours. It's this history of excellence that distinguishes us from others. We know that JBS means good things to our customers because they see firsthand how dedicated we are to them. They trust us to get the job done right the first time, every time.
As an independent company, JBS offers clients complete visibility into their operations and the freedom to tailor solutions specifically to suit their unique requirements. We ensure our clientele receives the best possible technical services at the most competitive rates.
What is aircraft management?
Aircraft management is the term that describes the services provided by aircraft management companies. Most aircraft management companies offer turnkey programs that include everything needed to operate the plane – maintenance, flight planning, scheduling, fuel management, travel arrangements, flight support, and more.
What are the main categories of aviation handling?
Aviation handling ensures a smooth flight and landing. To list not to include all the services:
Air ambulance handling

Military aircraft handling

Cargo handling

Passengers

flight handling

Private helicopter charter

Ramp handling
Why hiring a third-party aviation handling agent is important?
Airline operations demand fast action and precise coordination. For example, if a problem develops once the aircraft leaves the gate, it may be too late to correct the situation and avert disaster. The same principles apply inside the airport where delays create havoc for passengers and employees alike.
If a problem arises due to weather conditions or mechanical failure, you can expect to face a long delay in repair work. It's important to prepare for those eventualities to protect your customers and yourself from potential risks by hiring a third-party agent.
Why choose JBS?
Airport operations are complicated with many challenges and compliance requirements. Our increasingly comprehensive view that covers the entire operational environment helps in improving efficiency, resource management, and productivity while maintaining security and compliance.
We know how flight traffic is increasing. Thus, our airport operations are scalable and flexible enough to cope with rising numbers while remaining seamlessly secure and robust.
What if I have more questions?
Contact us! We are more than happy to serve you. 
Email: marketing@jbs.aero
Tel.: +971 6 7486866 Ext. 110
Mob: +971521364676