Precise Hotel Reservation at Competitive Rates
Our specialized hotel accommodation service provides a seamless experience that values your time, safety, and convenience.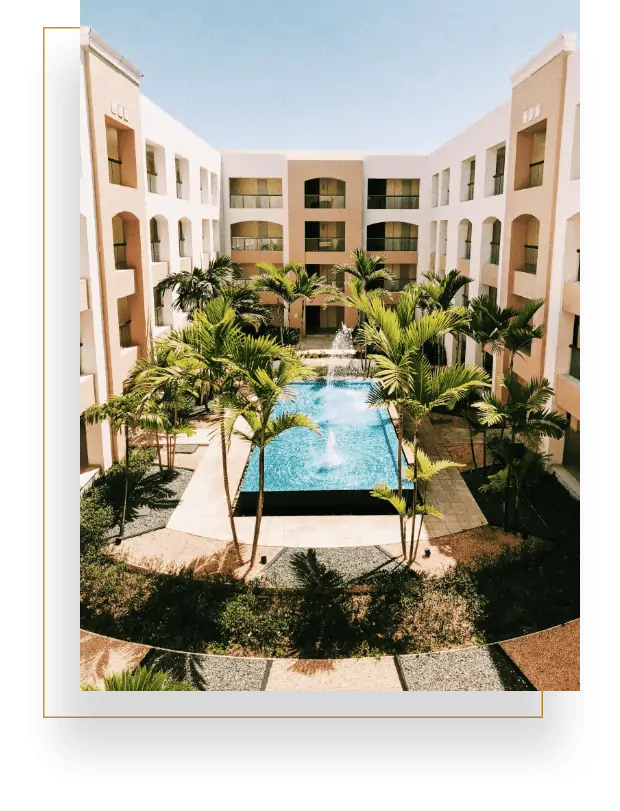 Top Hotel Arrangement
Wherever You Fly
Hotel arrangement in new areas may be a significant challenge for many airlines, especially when they need to find a superior hotel at competitive prices quickly and accurately.
Jet Business Solutions provides quick access to changing hotel bookings. We are flexible in responding to last-minute requests and taking any abrupt adjustments and changes under control to achieve your satisfaction.
Due to our long expertise in accommodating flights, we indeed know which hotels serve our clients' needs.
Thus, we present you with a wide range of suitable travel arrangements options to ensure the ultimate comfort and safety for your flight crew, cabin, and business travelers.
We follow solid procedures to ensure that your passengers will enjoy a comfortable experience on the ground:
Review possible hotels in the region you want to stay in using stringent criteria. We consider various factors such as the neighborhood safety and security, hotel staff professionalism, room noise, and restaurant availability.
Find the proper hotel at the perfect spot that meets the safety and luxury standards you and your passengers deserve.
Conduct an extensive examination with our local partners to ensure that all the rooms your passengers are staying in have amenities, a quiet air conditioning system, comfortable beds, and high-speed internet.

Finally, our hotel room arrangement team makes sure to book the rooms located on upper floors, away from the laundry areas, lobby, and hallway for your passengers' comfort.
JBS guarantees a stress-free experience with streamlined check-in and check-out processes besides additional pre-booked services at your request.
In addition, we provide VIP accommodation, with the highest safety standards, and cutting-edge safety equipment, to ensure that our clients are always relaxed and comfortable.
JBS hotel room arrangement staff is accessible 24/7 to assist you even with short-notice flights and charters. As well as answering any questions, inquiries, or concerns you may have.
Moreover, we are keen to put different types of hotel rooms at your disposals, such as luxury hotels, bed and breakfast hotels, botels, budget hotels, holiday cottages, and resorts.
JBS also ensures that all hotel owners we partner up with have the latest worldwide developments in hospitality business management for the convenience of any hotel guest.
What types of hotel rooms can you book for my business trip?
JBS knows that the hotel industry is broad, and so we try to meet the diverse needs of every client by providing a hotel booking for different types of hotel rooms, such as
Boutique hotels
Botels
Transit hotels
Inns
Resort hotels
Pensions
Bed and Breakfasts hotels
Holiday cottages
Pop-up hotels
Condo hotels
Eco hotels
We search thousands of hotels to find a hotel booking that suits your passengers and crew.
Where is the hotel, and how can I get there?
We will send you a confirmation with the hotel address, directions, phone number, and other critical details you need.
It is worth noting that transportation is available to pick up passengers from the airport to the hotel upon your request.
What does the price offer? Does it include breakfast?
This information is determined on a client basis and depending on the hotel reserved.
It is necessary to send us a confirmation of what you want and what you don't. And if there are any additional services or amenities you like your passengers to have while staying at the hotel.
The hotel will charge breakfast separately if you don't state that you want it included.
Will the hotel be near or far from the airport?
You are the one to decide whether you want the hotel to be close to the airport for quick and easy arrival or far. Everything related to the hotel arrangement is based on your request and wishes.
What are the available payment methods that my crew can use?
No matter what your business policy requires, you can get your reservation when your crew arrives at the hotel, whether you pay with cash or by credit card, JBS will gladly help you secure your booking as smoothly as possible.