Flight Support to Qatar: Fly to Qatar With No Limits
Seamless Flight Support Services for the FIFA World Cup 2022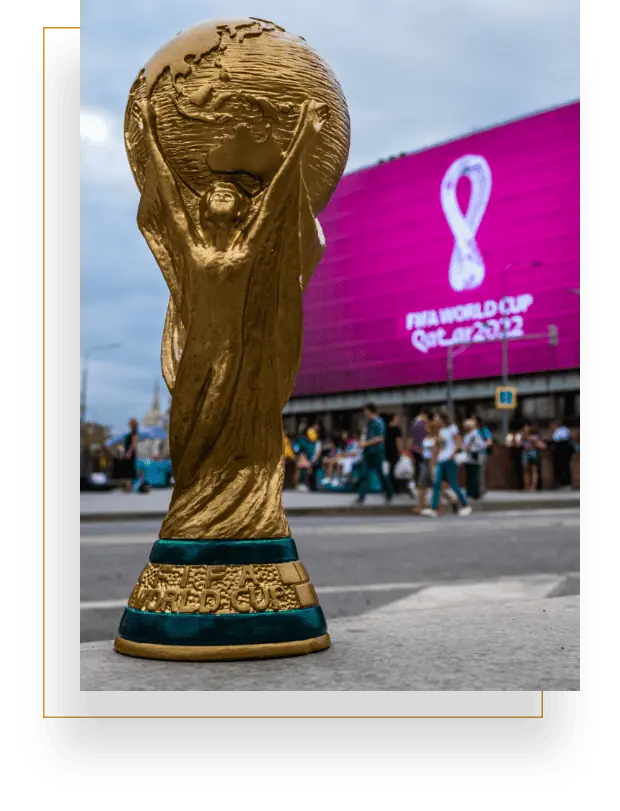 Premium Flight Support Services to Qatar
That Empower Your Business

The aviation industry faces plenty of pressure and unexpected challenges on a daily basis. From constantly changing regulations to uncalculated events, you never know when a problem could arise and slow you down.
But we don't just face problems head-on. We anticipate them before they arise so we can give your business the push it needs to ensure a safe and successful flight.
This is why you need an exceptional flight support partner to help you solve any problem, whether up in the sky or down on the ground.
JBS offers premium flight support solutions that are customized per your requirements and tailored to suit your needs because we want you to have an outstanding experience on your journey towards success.
Everything You Need to Know About Traveling to Doha for the FIFA World Cup Qatar 2022
The FIFA World Cup brings 3.5 billion fans together once every four years for one of the most prestigious sports competitions in the world. As one of GCC countries to host this distinguished event, Qatari Authorities are preparing to give the teams and attendees an experience they won't soon forget.
Foreign nationals must register for a special identification card called "Hayya Card" to enter the country and stadiums for the 2022 World Cup. The "Hayya Card" is a smart technology ID card linked to a visitor's world cup ticket that serves as a valid visa to enter the country. It also allows access to stadiums and free public transport on match days.
With the eyes of the world centered on Qatar and visitors flocking in from all over the globe, it is natural for accommodations and travel to become limited. It's hard to stay ahead of the constantly changing regulations and unforeseen events that air operators face daily, even for prestigious airlines like Qatar Airways.
Our 20 years of experience in aviation support and exceptional services allow you to get to your anticipated matches without experiencing the hassle of airport procedures and long flight hours.
Ensure that your crew and passengers get the best service during their flight to Qatar. The cornerstones of JBS are speed, efficiency, and accuracy, which allow us to build our all-inclusive solutions around your goals and satisfaction.
By combining perfect coordination, multiple resources, years of experience, and the latest technologies, we can provide you with anything you need, from aviation handling and fueling to securing flight permits and flight planning.
As for COVID-19 Travel Requirements and Guidelines, Here's What You Need to Know:
Currently, all ticket holders are required to be fully vaccinated.
Ticket holders must wear masks when using public transportation (including taxis and on-demand transport). Please note that the maximum number of people permitted on these services will be fewer than usual to ensure space for social distancing.
Unvaccinated travelers may be required to quarantine at a designated hotel for five (5) days
International travelers must submit their original vaccine certificate, serial number of the vaccine batch, and QR code.
Visit the official Qatar World Cup 2022 website for more information!
Premium Flight Support Services for a Safe & Easy Flight to Qatar
An extraordinary trip to Qatar deserves a wide range of outstanding flight support services alongside it. JBS will be your companion on the ground and in the air when flying to and from Qatar for the FIFA World Cup 2022.
We'll secure everything you need, from permits and flight plans to ground operations, fuel services, and airport slots. Our premium flight support services follow the aviation industry's highest standards and apply our professional expertise to ensure that your flight is a success all the way through.
Below you'll find everything you need to know about the QCAA landing/traffic rights clearance procedure and slot booking process for operators:
QCAA Landing/Traffic Rights Clearance Procedure for Operators:
Operators must submit a request for landing/traffic rights clearance to the QATAR Civil Aviation Authority via the provided email.
Operators must submit their requests for non-scheduled flights at least seventy-two (72) hours before the intended flight takes place.
Slot Booking Process for Operators:

The operator must apply for a Slot Booking Deposit Number (SBDN).
MATAR Finance will process and issue the Slot Booking Deposit Number (SBDN).
The operator must apply for a Ground Handling Confirmation Number (GHCN).
The Ground handler will process and issue a Ground Handling Confirmation Number (GHCN).
The operator must apply for a slot including additional information, SI SBDN, SI GHCN, and SI Purpose of the flight.
QATAR Slot coordination will handle the request and provide a response.
The operator must apply for Landing Clearance.
QATAR Civil Aviation Authority will process and issue a QCAA Clearance Number.
For more information and assistance, please contact +971 4 337 9191 or email us at ops@jbs.aero
FIFA World Cup Qatar 2022 Dates

The event will take place in Doha, the capital of Qatar, from 21 November to 18 December 2022. This will be the first time Qatar hosts the prestigious event, with millions of fans flocking to the country to experience the world's best football players competing for the championship.

Why settle for watching from behind a screen when you can join the international community on the stage? Don't let anything stop you from flying to Qatar successfully. Visit our website for more information regarding our premium flight support services!

Fly to Doha for the World Cup, Stay for Qatar's Vibrant Culture

Qatar will host the FIFA World Cup matches in eight stadiums in and around Doha, the farthest one being located 60km from the city center. While it might be the biggest attraction, Qatar offers travelers so much more than just exciting football matches.
From clear turquoise waters and glistening sandy beaches to breathtaking skylines and historical attractions, Qatar has no shortage of things to do.

Our exceptional flight support and ground handling services will ensure the complete safety of your crew and passengers so they can experience Doha's vibrant culture with complete peace of mind.