Air Cargo Handling at its Peak with JBS
At JBS, we follow the best procedures in cargo handling to ensure the safe and secure delivery of your shipments.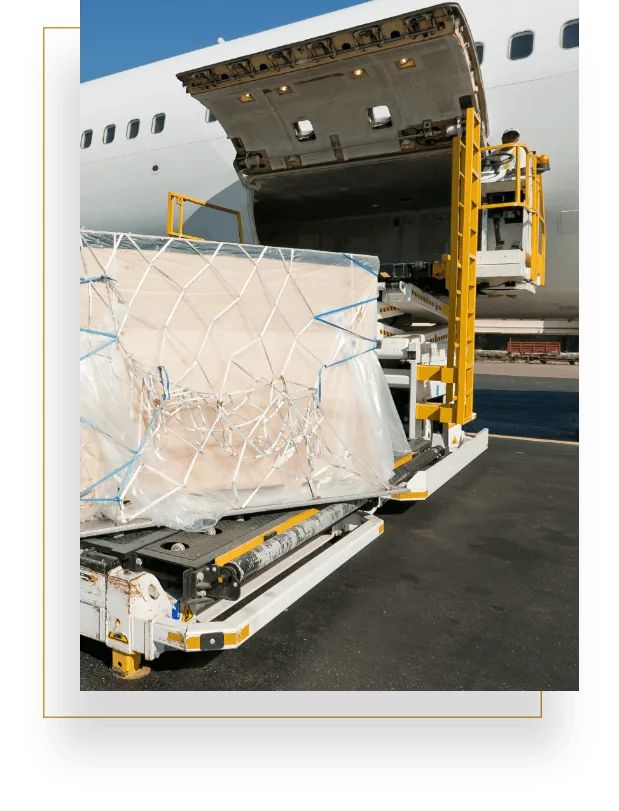 Your Trustworthy Cargo
Handler for Smooth Shipments
For freight airlines, all cargo is valuable. Because we understand that, we design our cargo handling process that treats any cargo type as precious. 
When you work with JBS, you get the best ground handling services and partner with a premium supply chain and a team of high-qualified cargo handlers who has full training in loading, unloading, and transporting goods on the runway.
Airline or freight forwarder, you can depend on JBS to handle a wide range of cargo, including perishable and dangerous items.
JBS complies with all the requirements of local and international safety and the IATA Cargo Handling Manual.

We guarantee to handle all shipments efficiently and with care, from the most valuable items to the least.

We understand the needs of our customers and meet them with solutions that fit their requirements.
We pride ourselves as your best fit for all cargo handling requirements and customized solutions. As your cargo handler, we take care of every detail in international shipments:
Operations and Management

Documentation and customs 

Charter & freight ramp services, and cargo delivery to and from aircraft

Logistics, including warehousing, airline ULD handling, and equipment rental

Perishable, special cargo, and sensitive goods.
Our cargo handlers take great pride in ensuring handling your shipment professionally. With an extensive knowledge of the latest trends relevant to the industry, they use this information to make sure that your shipment arrives safely at its final destination country.
We are committed to your airline cargo success from your freight's country of origin to the last mile.
We facilitate the work of freight forwarding companies with an extensive range of services like
Airplane loading
We have an expert warehouse staff who handle all incoming air freight and outgoing shipments from airplane to ground transportation mode. 
We have a great experience with the most modern equipment like load ramps. Therefore, you can be sure to receive your domestic or international shipments safe and sound.
Transportation
We arrange the ideal mode of transport to pick up your goods straight from the warehouse. 
We partner up with the best transportation companies. We ensure that all the drivers have licenses, insurance, and adequate training in dealing with special cargo.
Customs Clearance
JBS flight support provides wholesome cargo handling, customs clearance, and transit services. We get shipments through customs to their destination faster, safer, and cheaper than ever before, saving our customers time and money
What is the Cargo Handling Manual of the International Air Transport Association (IATA)?
The IATA Cargo Handling Manual (ICHM) is a document that contains the most up-to-date recommendations for airline stakeholders. It provides all of the necessary material in a user-friendly, step-by-step style. It was created by the ICHC (IATA Cargo Handling Consultative Council), an IATA council established in 2011 by the Cargo Advisory Council (CAC). The manual contains all operating directions door to door, from shipper to consignee, with a special focus on airport-to-airport operations where cargo handlers and airlines engage.
What are Incoterms?
Incoterms are three-letter codifications specified by the International Chamber of Commerce that contain all important information on the shipper's and consignee's duties concerning delivery.
What kind of cargo flights do you handle?
We provide our experience to both airlines that just provide air freight services and mixed operators. In any case, you can count on our committed staff to provide you with round-the-clock assistance.
Our cargo airplane handling services evolve and expand in tandem with your company's demands.
Why collaborate with JBS for cargo handling services?
We understand the industry's ins and outs, and we are always here for you:
Around-the-clock availability.

Global network logistics to handle your freight anywhere.

Long experience in handling air cargo flights of every type.
How can you help me as a freight forwarder?
We can assist you with outsourced flight planning to a section of the world where you have never transported goods before, or when you change your plans at the last minute due to bad weather or any other reason.
In addition, we can arrange high-quality ground handling services and overflight landing permissions.